Join YCP Detroit for our monthly Executive Speaker Series event. This month's speaker is Bev Beltramo. Bev will be sharing her experiences and speaking on professional chaplaincy, including how we can use our talents for the Catholic Church.
Event Location
The event will be held at Sweetest Heart of Mary, located at 4440 Russell St, Detroit, MI 48207.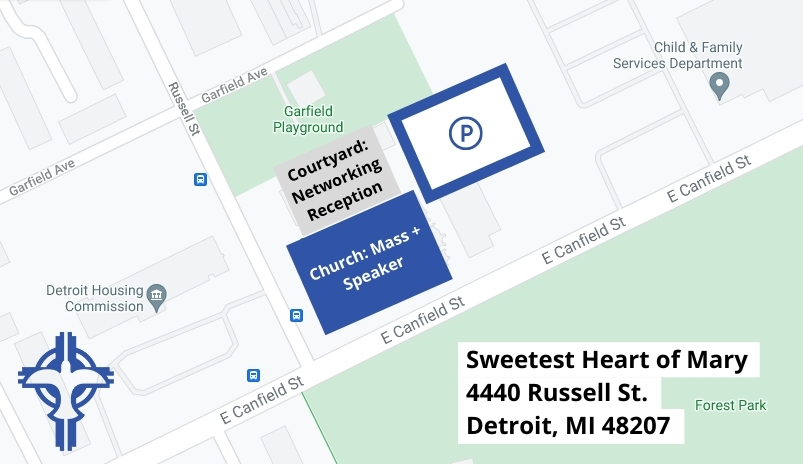 Event Schedule
6:30pm - Daily Mass

7:15pm - Networking, Complimentary Food & Beverages

7:45pm - President's Remarks

7:50pm - Chaplain's Remarks

8:00pm - KEYNOTE: Bev Beltramo

8:20pm - Q&A

8:30pm - Closing Remarks
About Bev Beltramo
Bev has been a leader in Spiritual Care for many years, first as the Director of one of the most diverse chaplain teams in the country at Oakwood Health System, and most recently as the Director of Spiritual Care for Ascension Michigan, overseeing Spiritual Care for sixteen hospitals throughout the State of Michigan. In between, she served as Chief Mission Officer for St Joseph Mercy Oakland Hospital in Pontiac.
Bev has long been an advocate for professional chaplaincy which engages the deep spiritual questions. In her current role, she stepped in as the first statewide Director and has worked to shift the division to a statewide ministry team where Board Certification is required of all full and part-time chaplains, and where consistent professional spiritual care is the norm across all sites. Bev is an Executive Board Member for the National Association of Catholic Chaplains (NACC) and served as chair for their 50th Anniversary National Conference.
In addition to her work with the NACC, Bev currently serves as a board member for the Catholic Foundation of Michigan and has been a liturgical musician in the Archdiocese of Detroit for many years. She holds a Doctor of Ministry degree from Ecumenical Theological Seminary and an MA in Pastoral Ministry from Assumption University.
She has recently taken up pottery and discovered to her surprise that it is possible to truly enjoy something--even if you are really, really terrible at it!

4440 Russell St, Detroit, MI 48207