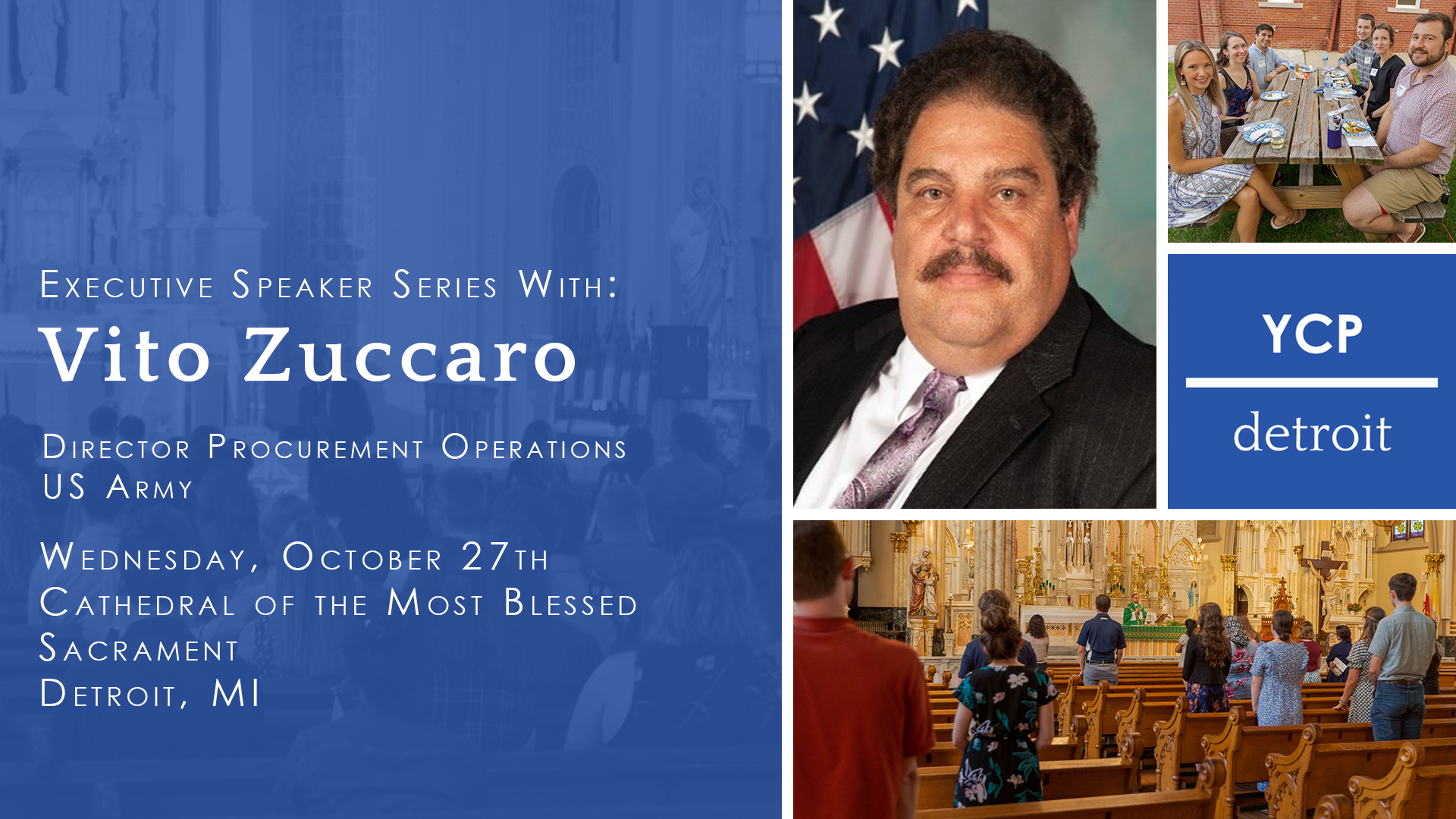 Join YCP Detroit for our monthly Executive Speaker Series event. This month's speaker is Vito Zuccaro, Director and Chief at Defense Logistics Agency Land. He will speak on the topic of Catholicism in Government.
Event Location
The event will be held at Cathedral of the Most Blessed Sacrament, 9844 Woodward Ave, Detroit, MI 48202
Event Schedule
6:30pm - Daily Mass (optional)

7:15pm - Networking, complimentary food & beverages

8:00pm - President's & Chaplain's remarks

8:15pm - KEYNOTE: Vito Zuccaro

8:30pm - Q&A

8:45pm - Announcements & closing prayer

9:00pm - After party at Kiesling bar.
about Vito Zuccaro
Vito Zuccaro is the Director of Procurement Operations and Chief of the contracting office at Defense Logistics Agency Land-Detroit Arsenal. Mr. Zuccaro is responsible for the procurement management of Class IX Depot Level Reparables for the U. S. Army Tank-automotive and Armaments Life Cycle Management Command. Vito Zuccaro has been working with the Defense Logistics agency since 2016.
Previously, Vito Zuccaro worked at the Army Contracting Command in Warren, Mi for 31 Years as the Supervisory Contracting Officer and Cost/Price Analyst. He was the Division Chief for Joint Light Tactical Vehicles, and the Cost/Price Analyst and Lead Negotiator for Bradley Fighting Vehicles System.
Vito Zuccaro's education consists of two Master's of Business Administration Degrees; one in Global Leadership from Lawrence Technological University and the other in Strategic leadership from Davenport University. He has a Bachelor of Business Administration Degree in Finance from Walsh College and an Associates of Science Degree in Accounting from Macomb Community College. He is a Graduate of the Senior Service College Fellowship with Defense Acquisition University.
Vito continues his exceptional educational background by being a Member of the Defense Acquisition Corps. He is Level III Certified as a Contracting Professional and Level II Certified in Program Management.
Vito has two children, Joseph, a High School Economics/Social Studies Teacher and Felicia, a Paramedic. He enjoys sports, card games and leadership reading.
Cathedral of the Most Blessed Sacrament