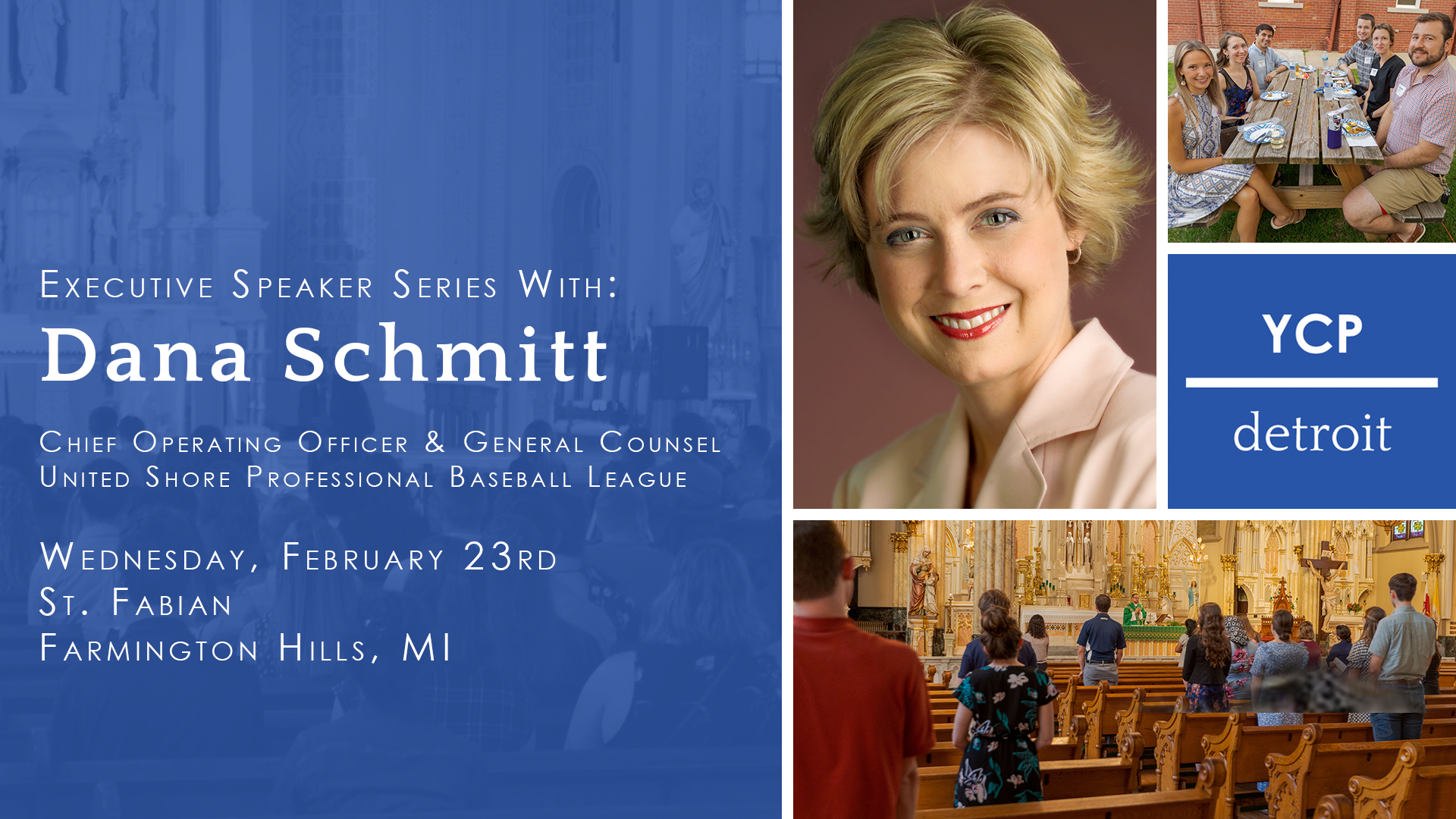 Join YCP Detroit for our monthly Executive Speaker Series event. This month's speaker is Dana Schmitt.
EVENT LOCATION
The event will be held at St. Fabian.
32200 W. 12 Mile Rd. Farmington Hills, MI 48334
EVENT SCHEDULE
6:30pm - Daily Mass (optional)
7:15pm - Networking, complimentary food & beverages
8:00pm - President's & Chaplain's remarks
8:15pm - KEYNOTE: Dana Schmitt
8:30pm - Q&A
8:45pm - Announcements & closing prayer
9:00pm - After party: Craft Breww City
About Dana Schmitt:
Dana L. Schmitt, Chief Operating Officer & General Counsel of the United Shore Professional Baseball League, is a talented executive and attorney with more than 25 years of experience in
operating entrepreneurial business ventures and in the practice of law. In her role as Chief Operating Officer of the United Shore Professional Baseball League, Dana helps to oversee all league, ballpark, and team operations.
Dana previously served as Chief Operating Officer and General Counsel of General Sports and Entertainment, LLC, the Rochester, Michigan based parent company to the United Shore Professional Baseball League. In this capacity, Dana worked directly with the Chairman of General Sports to oversee the development and operation of all General Sports business divisions, subsidiaries, and affiliated entities, while handling legal matters for each entity.
Prior to joining General Sports, Dana worked for the Chicago law firm of Blatt, Hammesfahr & Eaton, where she represented Lloyd's of London Syndicates, and various insurers and re-insurers in the United States, Canada, and Europe. Dana also was a principal in Big Green Group, a telecommunications business that she helped to found in 2010. Dana served as Chief Strategy
Officer and General Counsel for Big Green Group from 2010 to 2015. Dana received her Bachelor of Arts degree in Political Science from the University of Michigan in 1992, and she received her Juris Doctor degree in 1995 from the University of Michigan Law School. Dana is
licensed to practice law in Michigan and Illinois.
Dana resides in Rochester Hills, Michigan. She is a parishioner at St. Andrew Catholic Church in
Rochester, Michigan.
32200 W 12 Mile Rd, Farmington Hills, MI 48334, USA